Lysa TerKeurst Book Giveaway!
I have another give away for you today!  Lysa TerKeurst; she is seriously one of my most favorites!  She is an wonderful author and great speaker!!  She is an inspiration to me!
This past February I got to meet her in person!  Yes, it's a bad picture, but it is proof it really did happen! 🙂
I was planning to buy a book of hers on the cruise and have her sign it for our giveaway here; unfortunately all her books sold out.  So, since I'm not going to part with my signed copy, I have a un-signed one here that one of you will win!!
Lysa has written several books.  Her are a few of them:
Made to Crave: Satisfying Your Deepest Desire with God, Not Food

Has food become your source of comfort? After a hard day at work, or a long day with the kids, don't you deserve that big piece of chocolate cake? Lysa TerKeurst used to think so, but that was before God showed her that what she really needed was more of Himself. In Made to Crave, Lysa won't tell you what to eat or how much to exercise, rather she explores why we make unhealthy food choices. She'll help you discover what it is you're really seeking, and how that need can only be met in our faithful Heavenly Father. And when your cravings are satisfied with His love, a healthy body will follow. Focus on the Family Recommendation.
Unglued: Making Wise Choices in the Midst of Raw Emotions

In her bestseller Made to Crave, Bible-teacher Lysa TerKeurst shared her struggles with what went into her mouth and how her food choices were based on her emotions. Now in Unglued: Making Wise Choices in the Midst of Raw Emotions, she focuses on what comes out in her speech. Sharing from her own experience, Lysa observes how many women hold their feelings inside, until circumstances reach a crisis and we explode, speaking in anger and saying words we'll regret later. In a very real way, we can come unglued and lose control of our emotions.

But there is hope for women who desire healing for their emotions. Without offering pat answers or simple solutions, Lysa brings insight to help women resolve conflict in healthy ways and improve communication with those whom you're in close relationship. Discover what it means to "renew your mind" in Biblical and practical ways.
What Happens When Women Say Yes to God: Experiencing Life in Extraordinary Ways

Total obedience to Christ can transform an ordinary walk into a remarkable journey. Sharing personal experiences and biblical insights, TerKeurst shows you how to partner with God in everything you do. You'll learn to discern his voice, follow his direction, and discover a life of joy and purpose. Previously published as Radically Obedient, Radically Blessed. Paperback.
 Capture His Heart: Becoming the Godly Wife Your Husband Desires

A fulfilling marriage requires two people focusing on each other's needs before their own. This practical guide will open your eyes to the needs, desires and longings of your husband. Capture His Heart offers eight essential criteria-plus creative tips-for winning and holding your husband's heart. A Focus on the Family Recommendation.
The Best Yes: Making Wise Decisions in the Midst of Endless Demands

Let Lysa TerKeurst help you discern the option that shapes all your other choices. Having trouble deciding which situations deserve a "yay" and which a "nay?" Are you living with the stress of an overwhelmed schedule and aching with the sadness of an underwhelmed soul? Offering Scripture-laced insights on effective decision-making, she encourages you to be honest, imaginative, focused, trusting, and humble as you discover the role God most wants you to play.
All of Lysa's book are good.  Yet this is my favorite.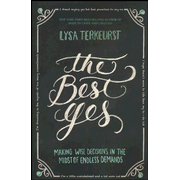 This is an amazing book.  I'm excited to give one of you a copy of it!  Click below to get signed up for the giveaway!